Nursery Preschool Classrooms: Where Love and Learning Begin
At Children's Orchard Academy, we understand the significance of early childhood development, and our Nursery Preschool classrooms are thoughtfully designed to provide your child with a loving, safe, and nurturing environment. Our mission is to meet the unique needs of each child while fostering their emotional, intellectual, and physical growth.
A Commitment to Cleanliness and Safety:
In our nursery rooms, cleanliness and safety are our top priorities. We have meticulously designed our classrooms to ensure a clean and hygienic setting where your child can thrive. Here's how we maintain this commitment:
State-of-the-Art Facilities: Our nursery rooms are fully equipped with modern amenities, including dishwashers, washers and dryers, sanitation sinks, and Green Guard certified cleaning products. These resources are readily accessible to our teachers, allowing them to uphold the highest standards of cleanliness.
Structured Daily Activities: Our program encourages toddlers to engage in daily structured activities. These activities are carefully crafted to enhance the development of their fine and gross motor skills. We believe in providing ample opportunities for your child to explore, play, and learn.
Emotional Connection: We recognize the importance of emotional connections at this stage of development. Our teachers prioritize one-on-one interaction to nurture strong bonds between caregivers and children. These connections are essential for fostering emotional growth.
Learning Through Sensory Exploration:
In our Nursery Preschool classrooms, we believe in learning through sensory exploration. Here's what your child can expect to discover:
Auditory, Visual, and Sensory Learning: Our curriculum is designed to engage all the senses. Through auditory, visual, and sensory experiences, children discover the world around them.
Introduction to Colors and Shapes: We introduce children to the captivating world of colors and shapes. These early lessons lay the foundation for future learning and cognitive development.
Sign Language: Sign language is a powerful tool for communication. It not only expands your child's vocabulary but also empowers them to communicate at an earlier age. We introduce sign language to enhance communication skills.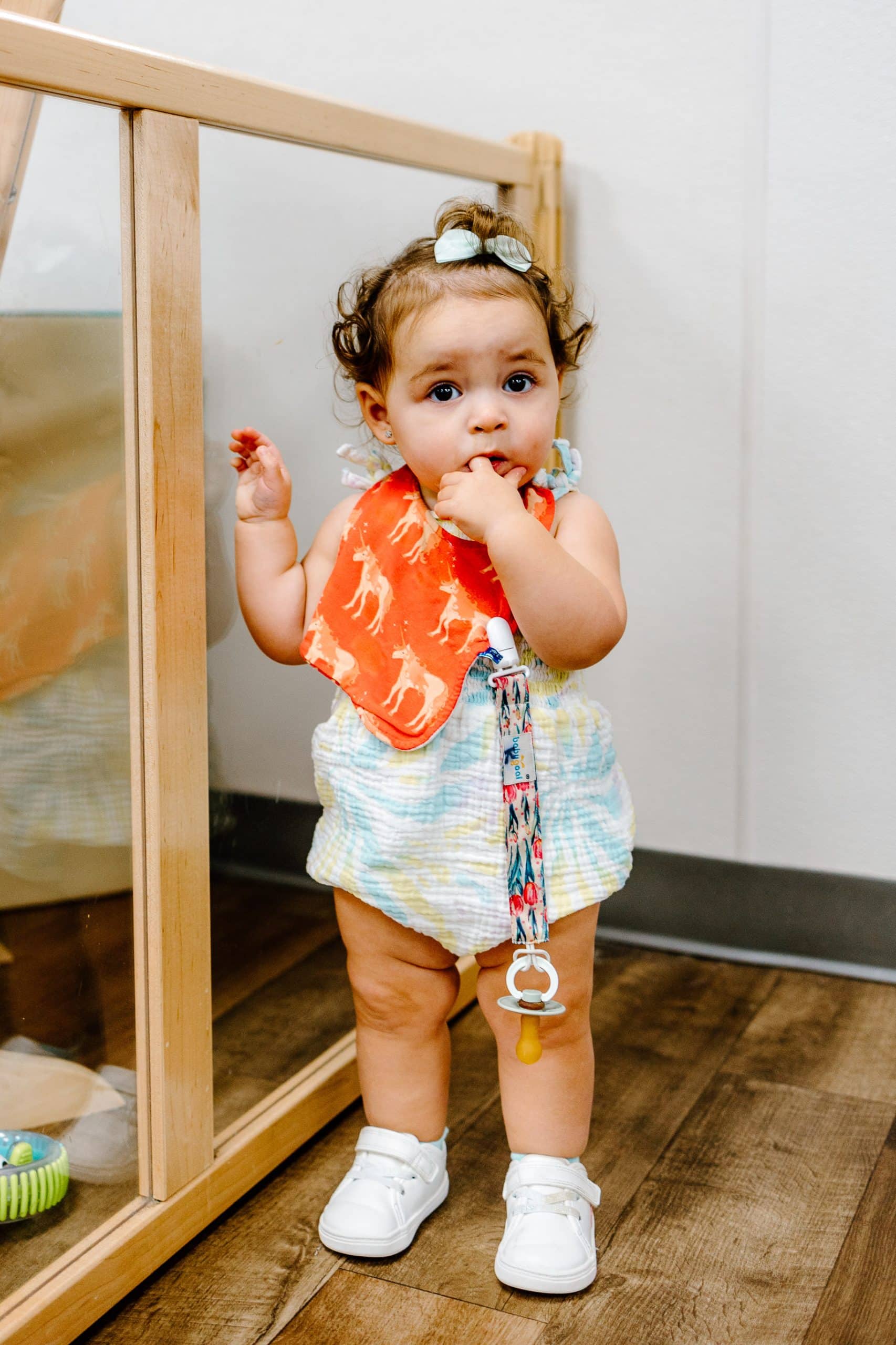 Individualized Care and Attention:
Every child is unique, and we celebrate that individuality in our Nursery Preschool classrooms. Here's how we provide personalized care:
Individual Feedings and Attention: Each infant receives individualized feedings and attention, ensuring that their specific needs are met with care and dedication.
Trained and Caring Educators: Our teachers are trained to understand and assist toddlers through the various stages of development. They provide individual attention and support children in accepting and overcoming limits and frustrations in a positive and nurturing manner.
Early Language Development: Although most children at this age are nonverbal, we introduce language development at a younger age. Through age-appropriate activities, we encourage language exploration, setting the stage for future communication skills.
At Children's Orchard Academy, our Nursery Preschool classrooms are more than just spaces for childcare—they are the starting point for your child's educational journey. It's where love and learning come together to create a strong foundation for lifelong growth and development. Join us in this exciting phase of discovery and growth!