Traditions at Children's Orchard Academy
At Children's Orchard Academy, our traditions and events are more than just gatherings; they are moments filled with excitement that bring our close-knit community together. We take pride in creating an atmosphere that's welcoming, energetic, and engaging for both parents and students. Here's a glimpse into the innovative activities and highlights that define our calendar:
Parent/Teacher Conferences
Twice a year, we invite parents to participate in Parent/Teacher Conferences, where they can witness firsthand the incredible progress their child has made. Our sign-up sheets ensure that every parent has the opportunity to engage, and we welcome conferences with teachers and directors anytime throughout the year. We believe in the power of open communication and partnership.
August
School Starts:
The beginning of the school year is a time of renewed enthusiasm and fresh beginnings.
September
Open House:
We throw open our doors to welcome parents into our vibrant learning environment during our Open House event.
October
Parent Teacher Conferences & Fall Festival:
October brings Parent/Teacher Conferences for a closer look at your child's growth. Our Fall Festival adds a lively twist to the season, offering families an opportunity to come together in the spirit of fun and celebration.
November
Thanksgiving Lunch & Stone Soup:
November is a month of gratitude and sharing. We gather for a heartwarming Thanksgiving Lunch and participate in the tradition of Stone Soup, emphasizing the importance of unity and collaboration.
December
Christmas Programs & Book Exchange:
As the holiday season approaches, our students showcase their talents in our Christmas Programs. We also exchange books, spreading the joy of reading and learning.
January
Celebrate the New Year:
We start the year with positivity, new goals, and a celebration of new beginnings.
February
Valentine Exchange and Valentine's Box Contest:
February is filled with love and creativity as we exchange valentines and engage in a fun Valentine's Box Contest.
March
Leprechaun Hunt, Spring Break, Dr. Seuss Week:
March is a month of adventure and imagination. We hunt for leprechauns, enjoy a well-deserved Spring Break, and dive into the whimsical world of Dr. Seuss.
April
Easter Egg Hunt & Good Friday:
Easter brings an exciting egg hunt, and we observe Good Friday with reflection and togetherness.
May
Parent Teacher Conferences, Teacher Appreciation, Muffins with Mom, Graduation, End of the Year Parties:
May is a month of reflection, gratitude, and milestones. We appreciate our teachers, celebrate moms, applaud our graduates, and end the year with joyful parties.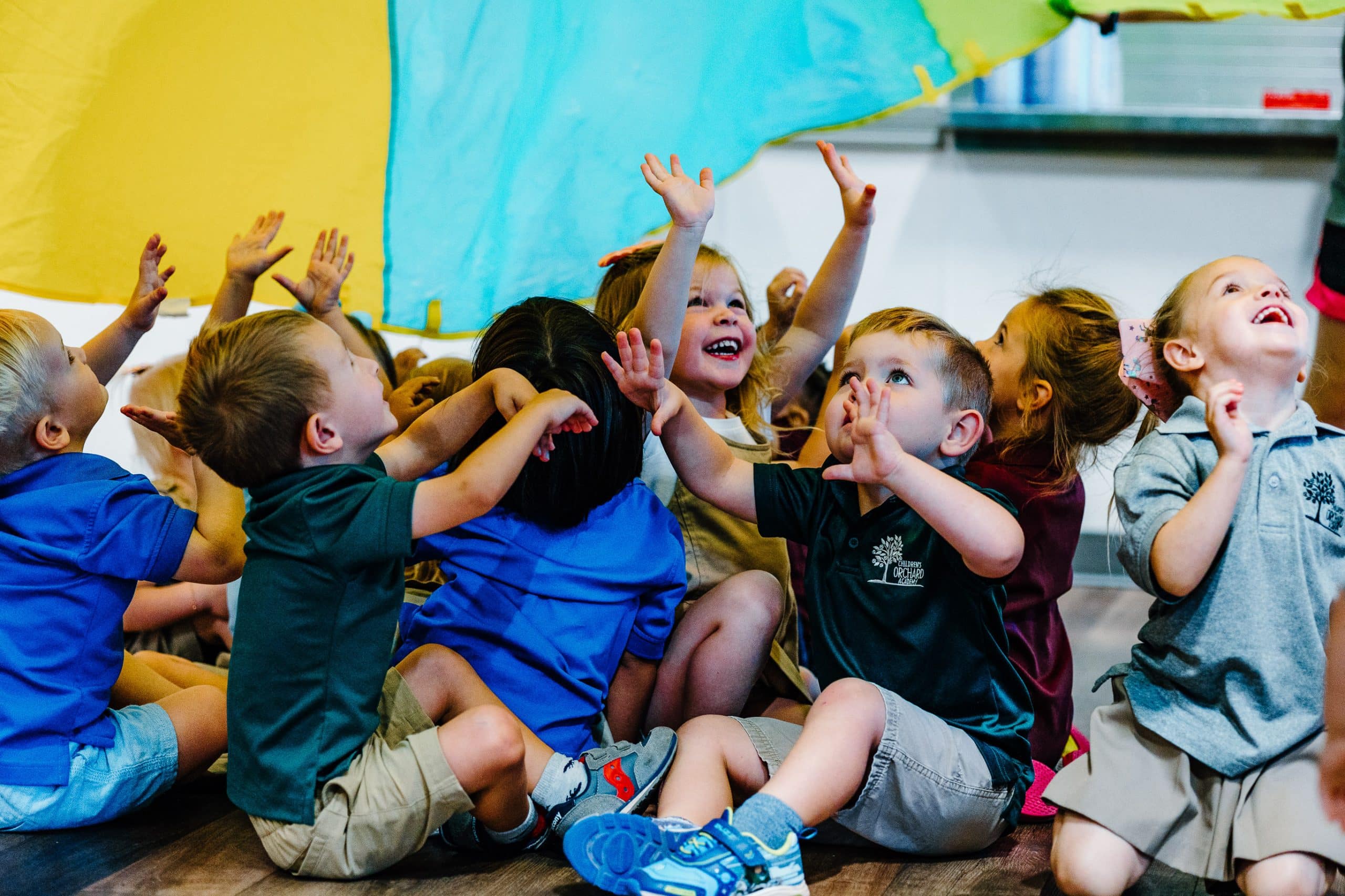 Engagement Throughout the Year
We encourage parents to actively participate in these dynamic traditions and events. Notices and sign-up sheets are posted in advance to ensure everyone can join in the excitement. Birthday parties are welcomed, with parents providing supplies and no gifts, in a spirit of inclusivity. Due to allergies, we kindly request that peanut products are not brought into the preschool.
Hours of Operation & Holidays
We value family time and holidays, and Children's Orchard Academy will be closed on specific holidays to allow families to cherish these special moments. Our facility's holiday schedule is posted in advance, with updates provided when holidays fall in the current year. Some holidays may result in early closures, and additional closings for staff training may occur.
We strive to provide consistent daily care for your students, and in cases of weather-related closures or delays, we provide advance notice through our Facebook page and local news channels. We aim to align with local school district closures for your convenience.
At Children's Orchard Academy, we create traditions that are vibrant, engaging, and filled with opportunities for learning, laughter, and lasting memories. Join us on this exciting journey where innovation and energy come together in the spirit of family and community.
A look into Our Community